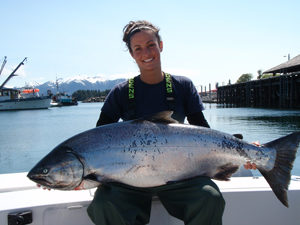 King Salmon
King Salmon range in size from 18 to 70 plus pounds.  The largest of the Pacific Salmon, the King is Alaska's state fish, and an important sport and commercial fish.  King Salmon gives an incredible fight which can often last hours.  Sitka has the lowest rod hour per King Salmon than anywhere else in the state.
Halibut
Halibut fishing near Sitka is some of the finest in the world.  Halibut of 25 to 50 pounds are abundant.  Hundred pound plus fish are not uncommon.  Halibut can reach up to 400 pounds.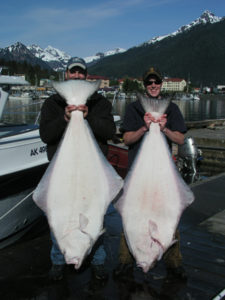 About our boat…
Fish and Relax in Comfort and Style in the Carpe Diem.
27′ Sea Sport Boat is designed for the Pacific Northwest.  The Carpe Diem is inspected by the Coast Guard Auxillary and it meets or exceeds their high standards of safety.  It is equipped with the latest modern electronics, including GPS, fish finder, computerized chart plotter, radar, VHF radio and Sirius satellite radio.  The heated cabin is comfortable and roomy.  Top of the line G Loomis fishing rods with Shimano and Penn reels are a great combo for the waters around Sitka.
About our Captain. . .
Captain Howard Merkel is a lifelong fisherman, an Alaska resident since 1987.  He is a retired Coast Guardsman with over 20 years of service, most of them in Alaska with tours of duty in Kodiak and Sitka.