Come to Sitka and enjoy the fishing experience of a lifetime with Merkel's Sportfishing Charters.
If you love to fish, you'll have the trip of your life with Merkel's Sportfishing Charters.  Everything you need for fishing is provided.  We can personalize your trip to the type of fishing you enjoy and the time of the season you would like to come.  Let your Alaskan world class fishing dreams come true in Sitka.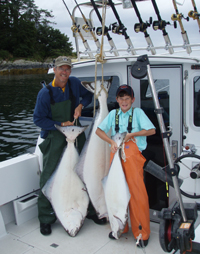 With our all inclusive packages we take care of everything,
from lodging to meals, all licenses and tags.  All tackle including rain gear is here for you.  Transportation to and from the airport is provided, along with the delivery of your fish boxes on the day you depart.  From beginning to end, Merkel's Sportfishing Charters has you covered.
About Sitka Alaska
Baranof Island is one of the three major islands in the Tongass National Forest.  Sitka is a small seaside community of almost 9,000 residents located on the west coast of Baranof Island.  A small body of water called Sitka Sound is comprised of 100's of tiny islands that lead out to the Pacific Ocean.  Sitka got its name from the original inhabitants, a major tribe of Tlingets, who called the village "Shee Atika".  The Russian explorer Vitus Bering discovered Sitka in 1714.  Sitka was once the Russian Alaska Capital.  Nested in the middle of the Tongass National Forest, Sitka has a very mild climate.  Temperatures can reach up in the 70's during the summer.  Rain or shine, Sitka is one of the most beautiful places in Alaska!  Why don't you come and see for yourself!